WALLIX: A Leader in Innovation
Once again an "Overall Leader" in the Privileged Access Management market, WALLIX's strengths are recognized in the 2021 Leadership Compass for PAM by KuppingerCole Analysts
WALLIX is leading the market with strong capacity for innovation, having continued to add powerful new features to the WALLIX Bastion Privileged Access Management solution to stay at the leading edge of technology and the needs of users.
Over the last year, WALLIX has centered focus on crucial market needs including strengthed remote access security in the shift to remote work throughout the pandemic thanks to native compatibility with WALLIX BestSafe Endpoint Privilege Management; automation of cybersecurity to improve detection and reactivity to cyber-attacks; simplified DevSecOps and advanced Application-to-Application Password Management (AAPM); and real-time oversight and recording of privileged account activity for ever more secure IT infrastructure.
This year, the 2021 Leadership Compass report focused on actors' ability to face the demands of digital transformation and organizational changes across market sectors, such as:
✔ Misuse of elevated privileges by unauthorized users
✔ Theft of privileged credentials by cyber-criminals
✔ Abuse or lack of visibility of shared credentials
✔ Widespread need for remote access to IT resources
and more…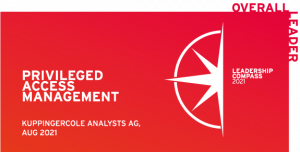 For the fourth consecutive year, WALLIX has been recognized as a leading player in PAM on the world stage, earning ratings including "Innovation Leader" and "Product Leader" and capping it off as "Overall Leader" in powerful, simplified Privileged Access Management.
Download the report to learn more!
Related Resources
Understanding Privileged Access Management (PAM)

Learn More

for Privileged Access Management

Learn More

Understanding the Basics of Strong Access Security

Learn More

The What, How and Why of a Zero Trust Approach to Security

Learn More