WALLIX will exhibit in Sweden for the first time at IT Security Insights 2020 !
October 13th, 2020 | 7A Odenplan, Stockholm
Join us in Stockholm to discuss your cybersecurity challenges and assess our solutions' value to your business first hand by assisting to live demos.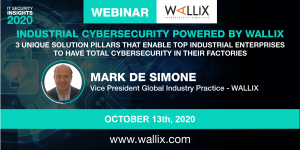 Along with Bastion, our award winning PAM solution, we will present our solution portfolio :
WALLIX Bestsafe (EPM)
WALLIX Trustelem (IDaaS)
WALLIX Authenticator (MFA)
WALL4iOT
Want to secure a time slot for a demo ? Please contact us at info@wallix.com to book a meeting. We are looking forward to answer your questions and help you find the right approach to secure your digital future.
MUST ATTEND CONFERENCE | Privileged Access Management Applied to Industrial IT-OT Processes
Mark De Simone, VP of Industrial Practice will take the stage to lead a conference on Industrial Cybersecurity.  He will present the current challenges in adapting Cybersecurity policies and discipline across the continuum of IT and OT and share several use cases from companies in automotive, transport, energy and public sector who are implementing projects at the global level and are faced with significant change management processes.
Key Takeaways of this session :
What IT-OT security approaches have been tried and failed . Which have worked and Why?
What are the key principles underlying a positive outcome?
What are the overall benefits in mitigating what is in essence the reputation risk of large and complex organizations?
What can we expect from future developments?
More info about IT and Security Insights here.