WALLIX WEBINAR
To mitigate the risks associated with overprivileged users, the journey towards a Zero Trust cybersecurity strategy requires a turn towards the Principle of Least Privilege. This approach states that access privileges are only given when absolutely necessary: only the privileges needed for a specific task, to one person, at the right time.
Enter, Just-in-Time. "JIT" privileged access management facilitates access granting and privilege elevation only when and as needed, elevating rights just in time for a given task and no more – effectively minimizing the attack surface. Just-In-Time Privileged Access improves compliance and eliminates the need to compromise productivity in the name of security.
Watch this webinar to explore the advantages of a "JIT" strategy and benefit from key insights and concrete use cases on how to implement it effectively.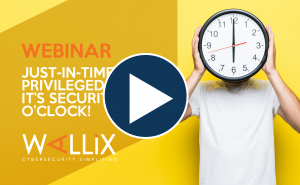 We use cookies on our website to give you the most relevant experience by remembering your preferences and repeat visits. By clicking "Accept", you consent to the use of ALL the cookies.
Privacy Overview
This website uses cookies to improve your experience while you navigate through the website. Out of these, the cookies that are categorized as necessary are stored on your browser as they are essential for the working of basic functionalities of the website. We also use third-party cookies that help us analyze and understand how you use this website. These cookies will be stored in your browser only with your consent. You also have the option to opt-out of these cookies. But opting out of some of these cookies may affect your browsing experience.