Revil, Ryuk, Emotet, TrickBot… You've most likely seen these malware names in recent headlines. Their sophisticated, constantly evolving operating methods make it impossible for traditional anti-virus to keep up.
With 5.6 billion malware attacks conducted in 2020, CISOs must be proactive and find innovative ways to block the intrusions and stop the damage from within.
How? By attacking their shared method of propagation: privilege abuse.
In this webinar, learn how implementing the principle of least privilege at endpoint level stops malware infections and prevents them from spreading. Our experts will use the example of Ryuk to explain at which key stages BestSafe, WALLIX's Endpoint Privilege Management solution, acts to block the ransomware. They will conclude with a live demonstration of the solution.
Watch the webinar: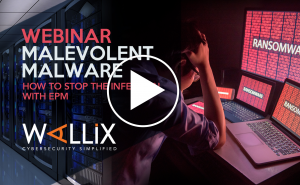 We use cookies on our website to give you the most relevant experience by remembering your preferences and repeat visits. By clicking "Accept", you consent to the use of ALL the cookies.
Privacy Overview
This website uses cookies to improve your experience while you navigate through the website. Out of these, the cookies that are categorized as necessary are stored on your browser as they are essential for the working of basic functionalities of the website. We also use third-party cookies that help us analyze and understand how you use this website. These cookies will be stored in your browser only with your consent. You also have the option to opt-out of these cookies. But opting out of some of these cookies may affect your browsing experience.