Cybersecurity Strategy in the Education Sector
Pass with flying colours!
WALLIX WEBINAR
Watch WALLIX's Access and Identity Security webinar and do not miss the intervention of an expert in the field of education: Garry SCOBIE, Deputy CISO at The University of Edinburgh.
Today organizations in the Education Sector are the most targeted by hackers, according to a recent report stating that the education and research sector faces an average of 1,605 attacks per week, an increase of 75%.
Elementary schools, large universities, research centers…. all run the constant risk of suffering a catastrophic cyber incident due to the valuable data they store. To address this sensitive situation, Identity and Access Management (IAM) solutions can ensure complete and robust security of your infrastructure by controlling user access to IT resources such as applications or databases.
Watch this FREE WEBINAR and do not let hackers teach you a lesson!
AGENDA:
Current Security Situation of the Education Sector
Expert Discussion
Most Common Cyberattacks on Educational Institutions
How to Face the Escalation of Attacks: Ultimate Solutions
Q&A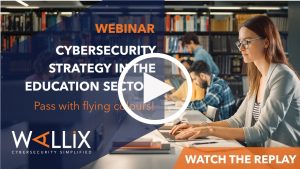 We use cookies on our website to give you the most relevant experience by remembering your preferences and repeat visits. By clicking "Accept", you consent to the use of ALL the cookies.
Privacy Overview
This website uses cookies to improve your experience while you navigate through the website. Out of these, the cookies that are categorized as necessary are stored on your browser as they are essential for the working of basic functionalities of the website. We also use third-party cookies that help us analyze and understand how you use this website. These cookies will be stored in your browser only with your consent. You also have the option to opt-out of these cookies. But opting out of some of these cookies may affect your browsing experience.