3 Ways to Stop Cyberattacks to the Transport Sector
WALLIX MINI WEBINAR
3 Ways to Stop Cyberattacks to the Transport Sector
In today's globalized world, the transport sector's dependence on technology has made it a particularly interesting target for hackers. The consequences of cyberattacks on transport companies range from reputational damage due to disruption to flights and trains to life-and-death situations.
Discover the 3 most effective and simple ways to prevent your transport organization from suffering a catastrophic cyberattack with Privileged Access Management (PAM) solutions. Robust and easy to deploy, WALLIX PAM4ALL unified solution allows you to manage and protect all your access while ensuring compliance and scalability.
You only need 15 minutes to learn how to protect your transport organization from cyber threats!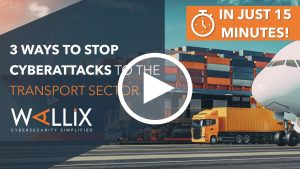 We use cookies on our website to give you the most relevant experience by remembering your preferences and repeat visits. By clicking "Accept", you consent to the use of ALL the cookies.
Privacy Overview
This website uses cookies to improve your experience while you navigate through the website. Out of these, the cookies that are categorized as necessary are stored on your browser as they are essential for the working of basic functionalities of the website. We also use third-party cookies that help us analyze and understand how you use this website. These cookies will be stored in your browser only with your consent. You also have the option to opt-out of these cookies. But opting out of some of these cookies may affect your browsing experience.