PAM on the Move
Securing the Transportation Sector with Privileged Access Management
Watch the webinar
IT security is crucial for the Transportation industry, whose businesses rely on complex, hybrid IT infrastructure. The consequences of a hack or data breach could be catastrophic, resulting in financial losses, reputational damages, and even physical injury.
This webinar will present the benefits of PAM for the Transportation industry, illustrated by real-life case studies.
Privileged Access Management (PAM) delivers robust, comprehensive IT security through access control, session monitoring, and password vault working in tandem to protect your most sensitive assets and ensure compliance with all cybersecurity regulations.
Watch the webinar: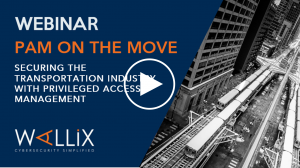 We use cookies on our website to give you the most relevant experience by remembering your preferences and repeat visits. By clicking "Accept", you consent to the use of ALL the cookies.
Privacy Overview
This website uses cookies to improve your experience while you navigate through the website. Out of these, the cookies that are categorized as necessary are stored on your browser as they are essential for the working of basic functionalities of the website. We also use third-party cookies that help us analyze and understand how you use this website. These cookies will be stored in your browser only with your consent. You also have the option to opt-out of these cookies. But opting out of some of these cookies may affect your browsing experience.