The latest Colonial Pipeline attack has proven it again : it's not if, it's when.
Critical infrastructure organizations have become the new target of choice for hackers and are under the constant threat of cyberattacks. As modern information systems, mixed legacy and modern operational technology meet, advanced cybersecurity is needed to protect systems, equipment, and data from human error or malicious activity and reduce the surface of attack.
During this webinar, we present how WALLIX simplified security solutions will protect your data and equipment, no matter your system, with a special focus on remote access to OT equipment such as PLCs, Engineering stations and others.
Watch this recording to discover WALLIX approach to OT cybersecurity !
Watch the webinar: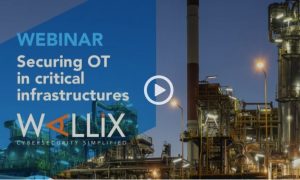 We use cookies on our website to give you the most relevant experience by remembering your preferences and repeat visits. By clicking "Accept", you consent to the use of ALL the cookies.
Privacy Overview
This website uses cookies to improve your experience while you navigate through the website. Out of these, the cookies that are categorized as necessary are stored on your browser as they are essential for the working of basic functionalities of the website. We also use third-party cookies that help us analyze and understand how you use this website. These cookies will be stored in your browser only with your consent. You also have the option to opt-out of these cookies. But opting out of some of these cookies may affect your browsing experience.