ICS, SCADA, NERC Compliance… the industrial sector of today faces major challenges in terms of cybersecurity to protect and defend its systems against cyber attack. In an age where IT and OT are converging, a threat to ICS is a threat to production, finances, and even public safety.
In this webinar, you'll discover:
What threats are the Industrial sector facing?
What challenges are there to implementing cybersecurity
How can these challenges be overcome to enact robust security practices across all IT and OT systems?
Watch the webinar: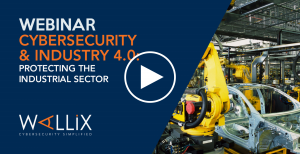 We use cookies on our website to give you the most relevant experience by remembering your preferences and repeat visits. By clicking "Accept", you consent to the use of ALL the cookies.
Privacy Overview
This website uses cookies to improve your experience while you navigate through the website. Out of these, the cookies that are categorized as necessary are stored on your browser as they are essential for the working of basic functionalities of the website. We also use third-party cookies that help us analyze and understand how you use this website. These cookies will be stored in your browser only with your consent. You also have the option to opt-out of these cookies. But opting out of some of these cookies may affect your browsing experience.