Join WALLIX for the 7th Edition of "Les Rencontres de la Sécurité"
OCTOBER 7th  2021 
Meet the WALLIX during the 7th edition of "Les rencontres de la Sécurité", Excellium Services' annual event to discuss all about cybersecurity.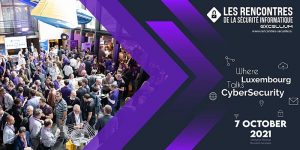 Each year Excellium Services and its partners offer an informative and varied agenda to meet the diverse challenges and current trends related to cybersecurity. This event is a whole day which aims to address the current concerns of cybersecurity and encourage exchanges between cybersecurity professionnals and leaders.
This new edition will combine meetings, demonstrations, round-table discussions, experience feedbacks, interventions of experts and will address key issues of cyber security in 2021.
Finally, at 5pm, after interesting exchanges and conferences, Excellium organize a festive and interactive dinner.
Agenda to come!
Plus d'infos sur l'événement : https://rencontres-securite.lu/