WALLIX Confirms Its Leadership Position in the KuppingerCole 2020 Leadership Compass For Privileged Access Management (PAM)
For the Third Consecutive Year
WALLIX is named a «Market Champion» in the 2020 Leadership Compass for PAM by KuppingerCole Analysts
For the third year WALLIX has been recognized as a leading player in PAM on the world stage, earning ratings including «Big One» and «Overall Leader» compared to the competitors in all categories – product, innovation, market, and technology.
WALLIX came up against 25 vendors in the Leadership Compass report, scoring recognition for our advanced features, new capabilities, and expanded product suite:
✔ Leading privilege session management capabilities
✔ Strong support for multi-tenancy and HA options
✔ Supports a broad range of target systems
and more…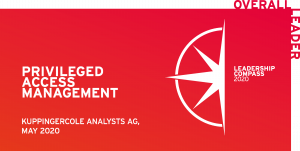 Download the report to learn more!
Usamos cookies en nuestro sitio web para brindarle la experiencia más relevante recordando sus preferencias y visitas repetidas. Al hacer clic en "Aceptar", acepta el uso de TODAS las cookies.
.
Resumen de privacidad
Este sitio web utiliza cookies para mejorar su experiencia mientras navega por el sitio web. De estas, las cookies que se clasifican como necesarias se almacenan en su navegador, ya que son esenciales para el funcionamiento de las funcionalidades básicas del sitio web. También utilizamos cookies de terceros que nos ayudan a analizar y comprender cómo utiliza este sitio web. Estas cookies se almacenarán en su navegador solo con su consentimiento. También tiene la opción de optar por no recibir estas cookies. Pero la exclusión voluntaria de algunas de estas cookies puede afectar su experiencia de navegación.