WALLIX Confirms Its Leadership Position in the KuppingerCole 2020 Leadership Compass For Privileged Access Management (PAM)
For the Third Consecutive Year
Greifen Sie auf den Bericht zu
WALLIX is named a "Market Champion" in the 2020 Leadership Compass for PAM by KuppingerCole Analysts
For the third year WALLIX has been recognized as a leading player in PAM on the world stage, earning ratings including "Big One" and "Overall Leader" compared to the competitors in all categories – product, innovation, market, and technology.
WALLIX came up against 25 vendors in the Leadership Compass report, scoring recognition for our advanced features, new capabilities, and expanded product suite:
✔ Leading privilege session management capabilities
✔ Strong support for multi-tenancy and HA options
✔ Supports a broad range of target systems
and more…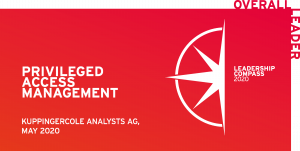 Download the report to learn more!
Wir verwenden Cookies auf unserer Website, um Ihnen die relevanteste Erfahrung zu bieten, indem wir uns an Ihre Vorlieben erinnern und Besuche wiederholen. Durch Klicken auf "Akzeptieren" stimmen Sie der Verwendung ALLER Cookies zu.
.
Datenschutzübersicht
Diese Website verwendet Cookies, um Ihre Erfahrung zu verbessern, während Sie durch die Website navigieren. Von diesen werden die Cookies, die nach Bedarf kategorisiert werden, in Ihrem Browser gespeichert, da sie für das Funktionieren der grundlegenden Funktionen der Website wesentlich sind. Wir verwenden auch Cookies von Drittanbietern, mit denen wir analysieren und verstehen können, wie Sie diese Website nutzen. Diese Cookies werden nur mit Ihrer Zustimmung in Ihrem Browser gespeichert. Sie haben auch die Möglichkeit, diese Cookies zu deaktivieren. Das Deaktivieren einiger dieser Cookies kann sich jedoch auf Ihre Browser-Erfahrung auswirken.