Meeting Compliance Regulations Using Privileged Access Management (PAM)
Cybersecurity is a top concern for organizations across the globe. As a result, more and more compliance regulations and laws are being put in place, but meeting these strict rules can be a challenge for organizations. In some cases, security teams may need to comply with multiple regulations based on their geographic location. They need a way to meet compliance without interrupting operations or impacting day-to-day tasks.
Privileged Access Management (PAM) Makes Compliance Easy
Privileged Access Management (PAM) solutions provide the tools needed to monitor and report on the status of security within organizations. The most robust PAM systems can be used to answer several compliance regulations without disrupting users' and administrators' daily activities.
PAM provides the tools organizations need to improve security and meet compliance regulations.
PAM Components
PAM typically includes three main components:
Access Manager: The Access Manager helps security teams manage all user access (internal, remote, contract, etc.) through a single portal. Unalterable audit trails ensure that everything is tracked and monitored while integrating with your existing solutions for seamless security.
Session Manager: The Session Manager monitors and records all users' actions in real time to prevent, detect, and terminate any suspicious activities. Administrators have complete control over the exact systems or data an individual can access and are automatically alerted if something goes awry. This component further helps security teams by producing video-like recordings of all sessions that can be searched using optical character recognition (OCR) technology, significantly speeding breach investigations.
Password Manager: The Password Manager secures all passwords in an encrypted vault and prevents any direct access to root passwords. It helps administrators enforce strict password policies to further protect organizations.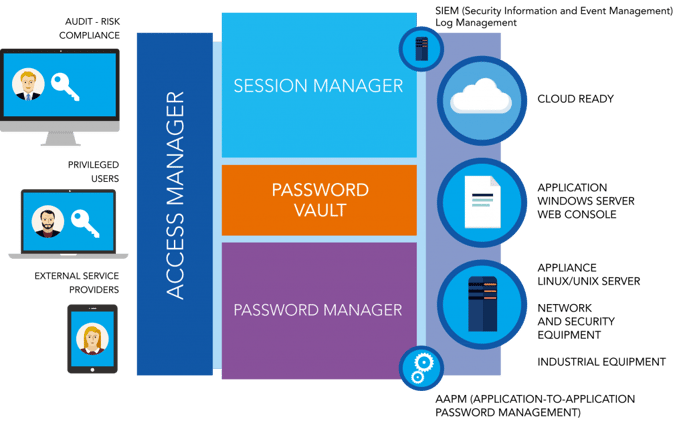 PAM Benefits
Each component of a PAM solution provides its own specific benefits, but taken together a complete PAM solution makes it easy to manage an entire IT infrastructure. Security teams can easily monitor, restrict, or revoke access to data and systems as needed. As a whole, PAM provides multiple security benefits including:
Generating unalterable audit trails to easily meet compliance
Providing all the details necessary to complete thorough breach investigations
Ensuring security by centralizing all access
Improving incident response
Optimizing and overall security operations
The Access Manager, Session Manager, and Password Manager work together to provide security teams with the visibility and control they need to ensure security organization-wide.
GDPR vs ISO Compliance Requirements
As mentioned, PAM can help organizations meet numerous compliance regulations. For example, PAM can be implemented to both directly and indirectly support compliance efforts for the GDPR and ISO/IEC 27001:2013 by:
Reinforcing access to critical data
Providing administrators with complete visibility over user actions
Helping define and enforce thorough security policies
Recording and logging all activity by internal and external parties
Allowing administrators to define specific access rules for each user
Integrating with a larger cybersecurity ecosystem for robust security
Generating accurate information about privileged account sessions
PAM can help organizations meet the requirements of both the GDPR and ISO regulations.
For more details on the specific areas that PAM can, directly and indirectly, support download the complete white paper GDPR vs ISO: The Similarities in Privileged Access Management Requirements.
PAM with the WALLIX Bastion
PAM simplifies security management, giving organizations peace of mind when it comes to security. WALLIX provides a comprehensive PAM solution, called the WALLIX Bastion, that includes the advanced Access Manager, Session Manager, and Password Manager modules. The complete solution can improve security by providing the tools security teams need to detect, prevent, and stop attacks in real time.
Want to learn more about the WALLIX Bastion? Contact us.