What is PAM? Privileged Access Management
Privileged access management, or PAM, is software that helps organizations maintain complete control and visibility over their most critical systems and data. A robust PAM solution ensures that all user actions, including those taken by privileged users, are monitored and can be audited in case of a security breach.
Privileged Access Management: Elements, Features, and Benefits
A robust privileged access management solution typically includes an Access Manager, a Session Manager, and a Password Manager to detect and defend against all types of security threats.
Access Manager
An Access Manager allows security teams to easily map users' allocation of roles and access while also viewing what is going on in your network in real-time. The Access Manager provides the tools needed to provide all users (internal, external, and third party) with a way to access the systems and data they need, manage access authorizations, and track operations efficiently.
Administrators can create clusters to maintain control over important resources when using multi-tenant architecture to have a clear picture of who and how resources are being used across an organization. Plus, advanced auditing tools create an unalterable trail of all sessions, creating a log with session metadata that can be searched by using advanced multi-criteria search capabilities.
Simplify access management with a customizable and centralized interface that allows your security team to effectively manage access to critical data and systems.
| | |
| --- | --- |
| Benefits | Features |
| Manage and secure access from a centralized dashboard | Customizable administrator portal |
| Easy deployment requiring little, if any, operational disruption | Unique management console to control user access |
| Adapts to your existing security tools so you can leverage all of their advanced capabilities | Multiple authentication options |
| Advanced search through audit logs using optical character recognition (OCR) technology | Single HTTPS entry point to decrease the potential attack surface area |
| Meet compliance regulations with automatically generated, unalterable audit trails | Multi-tenant architecture |
| ·       A scalable solution can adapt as the organization grows and changes | Access manager-specific audit logs for all authorized user sessions |
Session Manager
The Session Manager tracks all actions taken during a user session for future review and monitoring in real-time. Administrators have the power to limit user access to ensure improved security. The Session Manager integrates into other security tools like SIEM, SOAR, and IDS to identify and stop potential attacks as they occur.
Monitor and control all user access and activity in real time.
| | |
| --- | --- |
| Benefits | Features |
| Improve incident response by coupling automated mitigation technology with human control | Real-time monitoring, control, and alerts |
| Maintain complete control over user privileges | Automatically block forbidden actions for specific users |
| | Native RDP and SSH access controls |
| Easily prove regulatory compliance | Robust compliance and audit tools |
|   | Integrate with SIEM, IDS, and SOAR |
Password Manager
The Password Manager is more than just a password vault. Although it securely stores and encrypts passwords, it also helps enforce robust password policies to help improve security best practices within your organization. All password SSH keys are secured within the vault or can be extracted from third-party vaults for seamless integration. Application-to-Application Password Management (AAPM) allows for authentication between applications. Utilizing advanced password management tools significantly reduces risk exposure within organizations.
Password managers help prevent root access to critical passwords and enforce strict password policies.
| | |
| --- | --- |
| Benefits | Features |
| | Interoperability with a variety of market standards |
| | Centralized identification management with check-in/check-out capabilities |
| Review alerts in real-time | Advanced plugins for credential rotation |
| | Application-to-Application Password Management (AAPM) |
| | |
The WALLIX Bastion Privileged Access Management Solution
WALLIX provides a complete and robust PAM solution with advanced access, session, and password management features with the WALLIX Bastion. With an interoperable architecture that is easy to install, your organization can improve security with little operational downtime. With the ever-increasing number of attacks and breaches, don't wait until you experience an attack to secure your organization.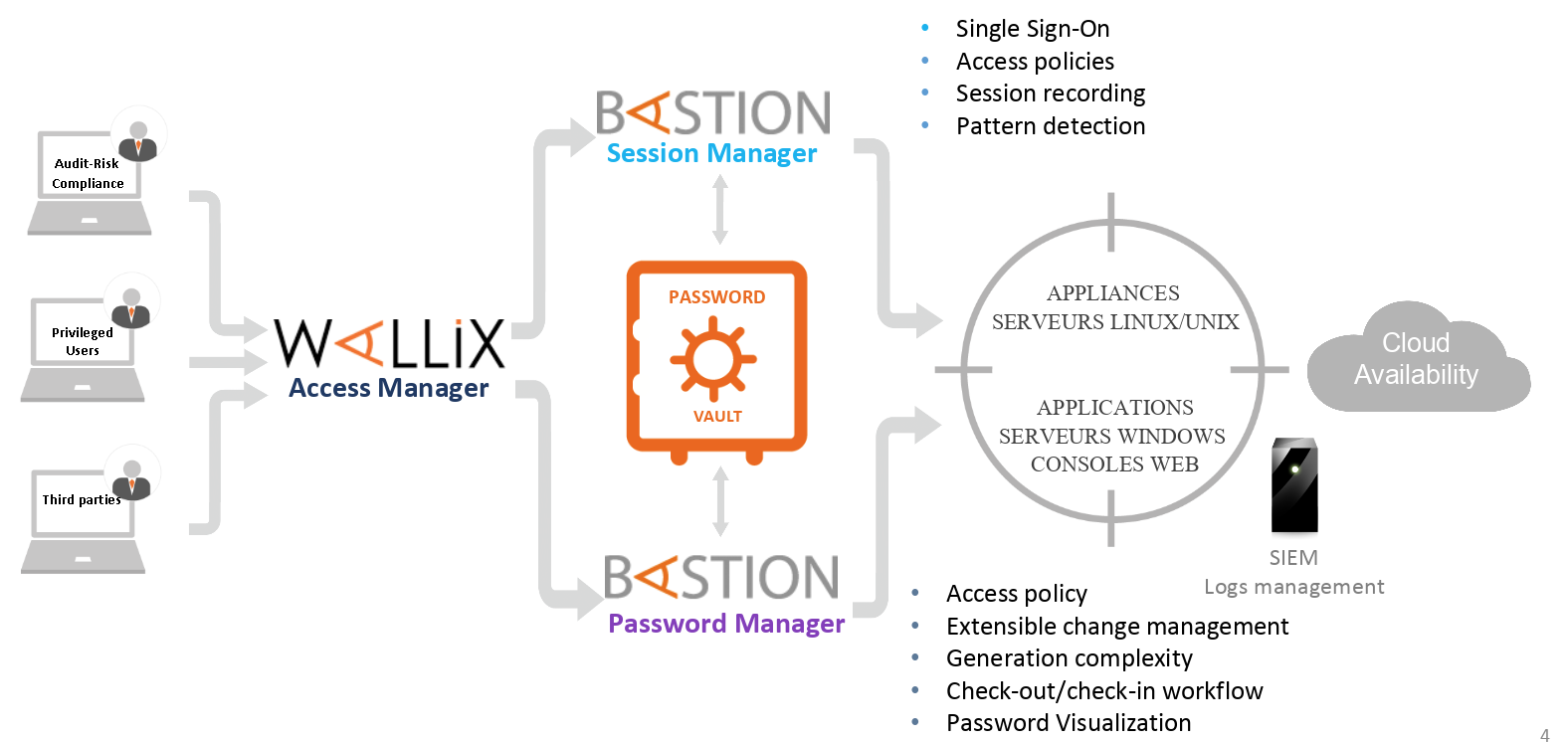 Ready to improve security within your organization or want to learn more about the complete WALLIX Bastion? Contact us.