WALLIX Live: Access and Identity in the Digital Transformation
Now Streaming!
Did you miss last month's WALLIX Live virtual event? Attended and wish you could listen in again to key insights? You're in luck! The full conference is now available for replay!
Start the new year off on the right foot with valuable expertise and lively discussion of our expert speakers. Covering everything from Zero Trust architectures and least privilege principle to predictions for the future of access security, these live panels dug down into what matters most for cybersecurity professionals worldwide. As some of the industry's foremost professionals, the WALLIX Live speakers represent national cybersecurity experts, CISOs, and service providers for a broad, in-depth perspective on the state of access and identity today and what we can expect in the year to come.
Roundtable Panel:
The Greatest Challenges Facing Access Security Today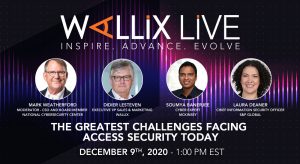 What are the main access security challenges faced by organizations today? How is it changing? Securing access at all levels to company systems and data is a complicated, yet crucial endeavor. Our panelists weigh in on the top issues and priorities for securing access today.
Panel discussion featuring CISO Laura Deaner (S&P Global), Cyber Expert Soumya Banerjee (McKinsey), and EVP of Sales Didier Lesteven (WALLIX).
Moderated by Mark Weatherford (National Cybersecurity Center)
Roundtable Panel #2
Are You Ready for the Future of Identity and Access Security?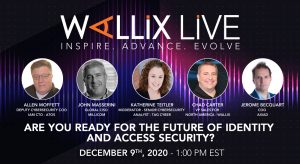 The digital transformation is accelerating, and with it, the threats and risks businesses face. What will be required to ensure a secure digital future? How will identity management and access security be implicated in an organization's transformation?
Panel discussion featuring IAM CTO Allen Moffett (Atos), CISO John Masserini (Millicom), COO Jerome Becquart (Axiad), and VP of Sales Chad Carter (WALLIX).
Moderated by Katherine Teitler (TAG Cyber)
Live Interview
S.O.S! The State of Security is at Risk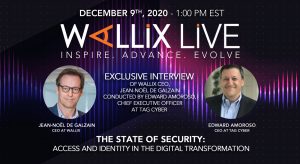 Exclusive interview of WALLIX CEO, Jean-Noël de Galzain conducted by Edward Amoroso, CEO at TAG Cyber
Kick off a secure digital future for 2021! Leverage the powerful insights shared by industry professionals to ensure a secure and productive new year. And stay tuned for future editions of WALLIX Live!