WALLIX Bastion: New Product Offerings
Protecting critical data and systems is a fundamental component of any enterprise or SMB (small and midsize business) security strategy. The best way to protect your organization is by ensuring the security of privileged user accounts by using privileged access management (PAM).
Improve security within your organization with advanced privileged access management (PAM).
WALLIX provides a robust PAM solution that helps organizations improve security by making it easy to monitor and audit the actions of all privileged users in real-time. Our latest product offerings provide advanced capabilities and integrate smoothly into existing security infrastructures to provide a flexible solution for both large organizations and SMBs.
WALLIX Bastion: Advanced Privileged Access Management
The WALLIX Bastion provides the PAM features you need for optimal security. It consists of three main components: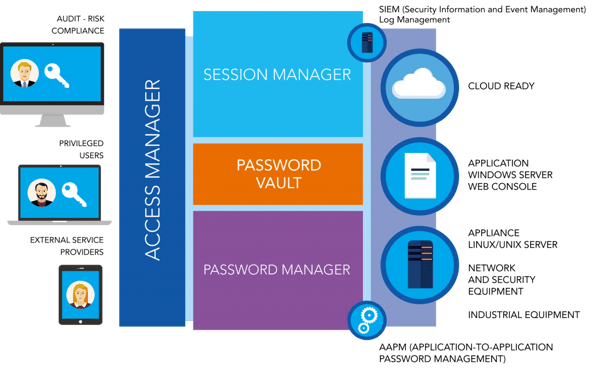 Session Manager
The WALLIX Session Manager allows IT administrators to easily manage and monitor all user access and activity in real-time. Super admins can maintain access governance by limiting users to only having access to the critical resources they need to complete their job duties.
Administrators can create and embed connection rules directly into the Bastion that automatically grant or deny access to users based on context-relevant configurations and access validation workflows. Advanced reporting and audit capabilities also help ensure organizations are meeting compliance regulations.
The WALLIX Session Manager makes it easy for security administrators to manage and monitor all user access and activity in real-time.
By utilizing the Session Manager, security teams can:
Determine if sessions are suspicious using advanced technologies like whitelisting/blacklisting, optical character recognition (OCR), 4-eyes supervision mode, widget event reports, keyboard input flow analysis, and more. Based on what these technologies detect, security teams can be alerted and sessions can be automatically terminated to stop attacks in their tracks.
Create comprehensive behavioral analysis and business intelligence reports by gathering data from all of your security systems through seamless integrations.
Easily accelerate incident analysis and response to further improve security.
Password Manager
The WALLIX Password Manager makes it easy for administrators to maintain control over passwords and strictly enforce password policies for your resources.
All passwords and SSH keys are secured within a centralized vault or can be extracted from other third-party vaults for seamless password security. Administrators can use the password vault to enforce password rotation and revocation through customized workflows. They can also use Application-to-Application Password Management (AAPM) to authenticate passwords between applications through the REST Java Interface using credentials and SSH keys. Utilizing these tools optimizes password security and significantly reduces risk exposure within enterprises. 
Secure passwords in a centralized vault and enforce strict password policies with the WALLIX Password Manager.
Access Manager
Simplify access management and monitoring of your Bastion clusters with a customizable and centralized interface that includes a real-time list of all privileged user logins, sessions, and actions.
The Access Manager allows administrators to completely customize the look of the interface making it easy for them to monitor privileged user activities. They can determine how to classify files, transfer files between workstations, and easily communicate with other Bastions via an encrypted channel.
Simplify access management with a customizable and centralized administrative interface.
Administrators can also create Bastion clusters to maintain control over critical resources when utilizing multi-tenant architecture. This helps organizations have a clear picture of who and how resources are accessible across complicated system integration. The access manager also helps ensure compliance as it includes its own unalterable audit trail of all sessions. The audit logs include multi-criteria search capabilities allowing admins to search within script and session metadata for suspicious activities.
New Product Offerings
WALLIX now offers two new product packages and one new offer to help businesses scale PAM to fit their specific needs.
BASTION Professional
The BASTION Professional package is ideal for SMBs looking to improve their security with advanced privileged access monitoring. It includes all of the features organizations need to maintain complete visibility of overprivileged user connections and actions. It deploys quickly and easily, allowing your organization to begin improving security immediately by providing the tools you need to:
Manage and control privileged accounts
Create customized configurations according to user rights and target systems
Maintain real-time visibility
Export session metadata to SIEM systems for more advanced reporting
Secure passwords in a centralized vault and enforce strict password policies
Record and review videos of all privileged user sessions
The BASTION Professional package makes it easy for SMBs to improve security using WALLIX's easy-to-deploy PAM solution.
BASTION Enterprise
The BASTION Enterprise package is a customizable PAM package that is specifically built to adapt to specific PAM projects and fit larger enterprise organizations' needs. It's highly scalable and integrates directly into your existing security environment for seamless access and improved protection without interrupting business operations. Using script libraries, advanced plugins, APIs, and technology partners, the BASTION Enterprise package is the most integrated and efficient PAM solution on the market. In addition to the capabilities provided by the BASTION Professional package, BASTION Enterprise also allows organizations to:
Completely integrate all security systems and solutions using APIs for enhanced business intelligence analytics
Utilize AAPM technologies to secure authentication between applications using passwords stored securely within the password vault
Maintain complete visibility over privileged access, session, and password management

BASTION Enterprise provides the most comprehensive and customizable PAM solution for enterprise organizations.
WALLIX Bastion: Comprehensive Security
WALLIX provides organizations with comprehensive security through advanced privileged access management tools. Don't wait until your organization has fallen victim to a cyberattack or data breach to improve your defenses, secure your organization and ensure you meet compliance regulations with the WALLIX Bastion.
Want to learn more about BASTION Professional or BASTION Enterprise? Contact us for more information.